An estimated 20 million Americans have some form of thyroid disease.
* Up to 60 percent of these people are unaware of their condition.
* One in eight (probably higher) women will develop a thyroid disorder during her lifetime.
* Up to 10% of women over 60 have clinical or subclinical hypothyroidism.
Modern medicine thinks that synthetic or bioidentical hormones are the magic bullet that fixes all low thyroid problems, while many natural practitioners think that iodine is the magic bullet.
Both are Wrong!
There are numerous causes for hyper- and hypothyroidism. About 90% of all low thyroid problems are connected to a more complicated issue known as Hashimoto Thyroiditis, an autoimmune disorder. The problem with both conventional and alternative treatment of Hashimoto's or Graves disease is, they often times do not address the underlying cause of the problem; inflammation and immune dysregulation . These people do not have a problem with their thyroid per se, but with their immune system and it's improper response.
Navigating your way through the thyroid issues can be very frustrating. Thomas has spent hundreds of hours working with clients who have been stuck in thyroid distress. His experience and research has helped unlock some of the mysteries surrounding these complicated issues. In this 3 class series, he will teach you what to look for in thyroid disorders and how to effectively approach healing.
This module is 3 classes, averaging 2 hours each.
All of the classes are recorded from a webinar series. The recordings, handouts and resources, are available in the online classroom. Students will have access for a minimum of three years to all materials.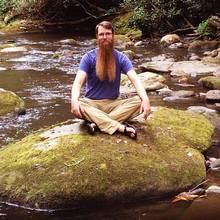 Clinical Herbalist
Thomas Easley
Thomas Easley is a Registered Herbalist with the American Herbalist Guild, co-author of Modern Herbal Medicine and the Modern Herbal Dispensatory and Director of the Eclectic School of Herbal Medicine.
1

Register for Webinar here

2

Video - A mainstream medical overview of the thyroid and testing

5

Amalgam Fillings - not great study but interesting

Celiac Disease and Hashis

Periphal Metabolism of Thyroid Hormones AMV

Paradigm shifts in thyroid hormone

clinical-strategies-in-the-testing-of-thyroid-function

Thyroid Medication Conversion Chart