Join Matthew Wood, Jim McDonald and Thomas Easley for 20 hours of discussion of traditional Western energetics. In this series Matt, Jim and Thomas will focus on the humors, six tissue states and plant energetics, and will discuss assessment and treatments using energetic patterns.
What are energetics?
Modern reductionist medicine isolates tissues and organs and studies them independently. Energetics, the language of traditional Western medicine, describe broad patterns in nature, reflected in the body, that influence multiple systems and are fundamentally interconnected.
Humoral temperaments
How do humoral temperaments influence our physical bodies and our dispositions? How do they help us understand the people we work with better, and how we can more be most consciously aware of our own projections? We'll discuss the relevance of physical indicators, humoral combinations, and see how excess, deficiency and blockage of humoural tendencies influence health.
The six tissue states
The six basic energetic tissue states are irritation, depression, stagnation, atrophy, constriction and relaxation. Like these energetic descriptions of broad imbalances, herbs have broad actions on the body. Understanding the six tissue states enables the herbalist to choose a more precise herbal remedy based on energetics.
Plant energetics
Herbs contain complicated combinations of chemical constituents. Only a handful of herbs are fully understood by scientists. Diseases, too, are very complicated, and current medical understanding of the exact process of disease is lacking. Using energetics allows the practitioner to recognize disease as a breakdown of homeostatic balance of the entire person: mind, body and spirit. With this understanding, herbalists are able to choose the herb whose energetics best match the person and the disease process that is occurring in their body.
Learn all this and more in an exciting week-long online class with world-renowned herbalists Matthew Wood, Jim McDonald and Thomas Easley.
Register now to receive instant access to videos and handouts from this class in the online classroom!
Recordings for this class can be mailed on a USB drive for an extra $50. To order the USB drive you have to register for the course (directions for ordering will be in the online classroom).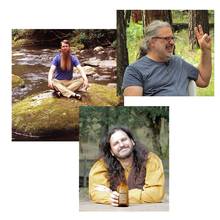 Matt Wood, Jim Mcdonald and Thomas Easley
Matt, Jim and Thomas have been in love with plants, nature and the rich tradition of Western Herbalism for a combined total of 42075901 minutes and counting.
They are incredibly thrilled to get to talk for 20 hours about Western energetics in an unscripted and impromptu manner. They are even more thrilled that you want to listen to them prattle on.
Matt, Jim and Thomas also perform together as a kazoo band. For sample videos and pricing please email Jim directly; jim@herbcraft.org